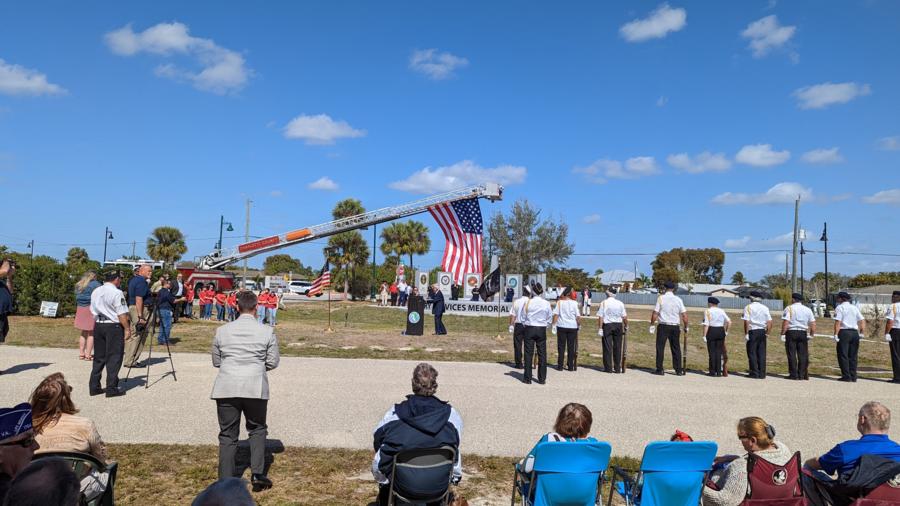 By FRANK DIFIORE Staff Writer
PORT CHARLOTTE — About 450 county residents gathered at William R. Gaines Jr. Memorial Park to see the dedication of a veterans' memorial at the park's entrance.
Charlotte County Commissioner Stephen R. Deutsch kicked off the ceremony and welcomed the crowd to the dedication.
"God bless you all and thank you for your support to make this a reality," Deutsch said.
The memorial hosts six columns listing the insignia and inaugural date for each of the six branches of the U.S. military, including the recently created U.S. Space Force.
The memorial stands at the entrance of Gaines Park, named for the U.S. Marine who grew up in Charlotte County.
Gaines was one of 241 Marines who were killed when their barracks in Beirut, Lebanon was bombed in October 1983.
Speaking to the crowd, Deutsch noted that Charlotte County was home to roughly 29,000 veterans.
"Charlotte County is Florida's most veteran-friendly county," Deutsch boasted.
Several veterans joined in the dedication. Jay Hemmingway, commander of American Legion Post 110, offered the benediction at the ceremony; Air Force Gen. Dick Carr led the crowd in the Pledge of Allegiance; and Army veteran Darren Taylor sang a rendition of the national anthem.
"I stand here, as an American veteran, in front of my American family," Hemmingway said.
Ken Wint, from Gold Star Families, spoke of his brother Capt. Walter E. Wint Jr. — another Marine killed in Beirut. Capt. Wint was Gaines' superior officer at the time of the bombing.
Ken Wint also spoke in support of the planned tower at the park, designed to educate local residents about the attack.
"This tower will tell the story of those who died in Beirut," said Wint, adding he hopes the tower and the memorial would strengthen the bonds between the families of the fallen.
The dedication ceremony also featured two flyovers as part of the event — the first from a pair of Huey helicopters flown by Charlotte County deputies, the second from a trio of T-28 Trojan planes.
According to a post from the Charlotte County Sheriff's Office, both helicopters were flown on Wednesday by veterans; one of the helicopters was used in the Vietnam War and was shot down before being restored to working order.
Music for the event was provided by the Port Charlotte High School Ensemble.