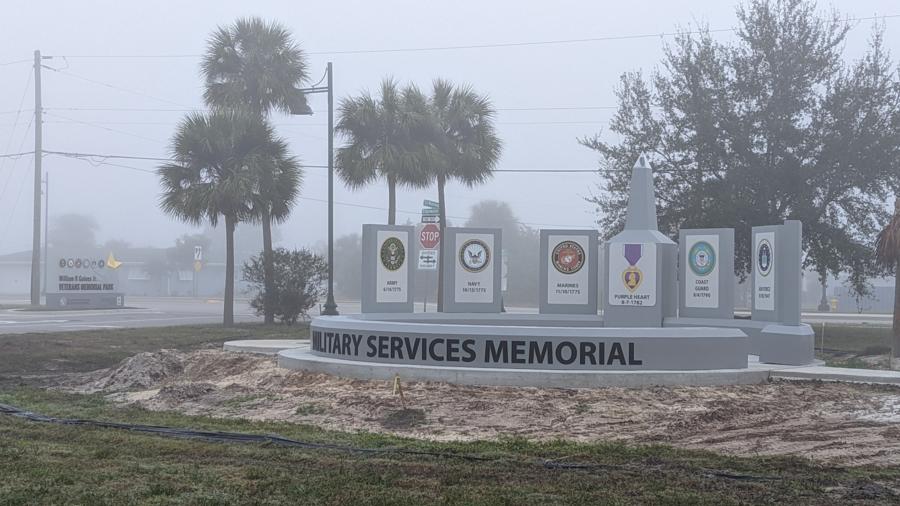 By BETSY CALVERT
PORT CHARLOTTE — The memorials for military veterans and first responders are mostly complete at the William R. Gaines Jr. Veterans Memorial Park.
It's been almost six years since Gaines' brother, Michael, called the county looking to memorialize William R. Gaines Jr., a Marine killed in the 1983 Beirut barracks bombing.
Since that conversation, Michael Gaines and Charlotte County Commissioner Stephen R. Deustch have been raising funds for the memorials and a place where visitors can learn about the terrorist bombing of peacekeeping forces. The suicide attack killed 220 Marines, 18 sailors, three soldiers along with 58 French peacekeepers and six Lebanese civilians.
The ribbon-cutting ceremony for the first responders memorial will be held at 2 p.m. Jan. 12 along Edgewater Drive, Deutsch said. Ceremonies for the veterans memorial will be a month later.
Fundraising continues for the tower. Each memorial has six monuments and a center obelisk, all made of coated aluminum. For the first responders memorial, the monuments include state first responders, Punta Gorda Fire, Punta Gorda Police, Charlotte County Sheriff, Englewood Fire and Charlotte County Fire — in order of creation. The center obelisk is the First Responders Prayer.
The First Responders Memorial awaits landscaping but is ready for viewing at the William R. Gaines Memorial Park on Edgewater Driver. The ribbon cutting will be at 2 p.m. on Jan. 10.
On the other side of the entrance, the military monuments include Army, Navy, Marine Corps, Coast Guard, Air Force and the newly minted Space Force. The center obelisk is the Purple Heart medal.
Deutsch said Space Force came along just in time to help him balance out the two memorials to both have six monuments.
Fundraising has also supplied the park with a military themed children's playground — the newest Space Force apparatus arriving soon.
The waterfront park, formerly known as Sunrise Park, was looking rundown six years ago, Deutsch said. Its new theme is coinciding with major upgrades. Two new facilities are funded but still awaiting permitting — nature trails and a handicapped-accessible kayak launch.