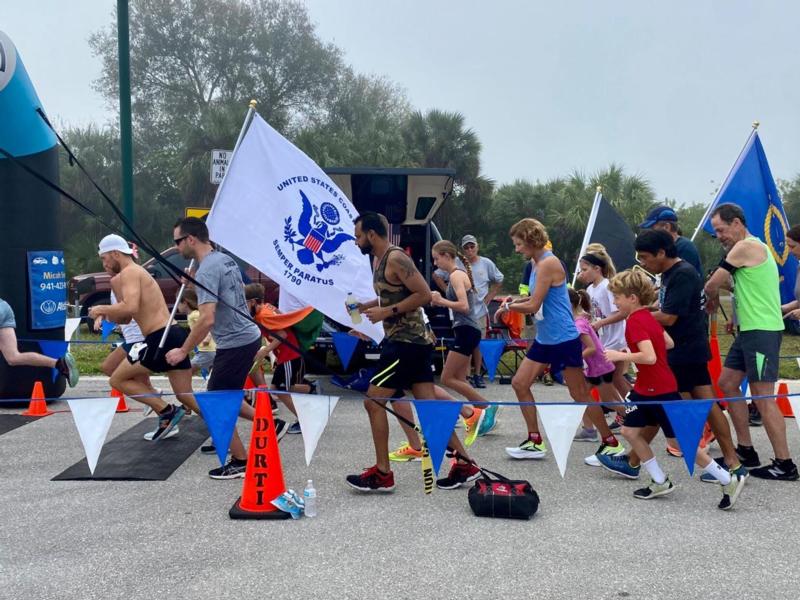 Betsy Calvert and Frank DiFiore contributed to this article.
PORT CHARLOTTE — Cutting through the early morning fog on New Year's Eve, over 170 runners gathered in position at the William R. Gaines Jr. Veterans Memorial Park.
The second annual Freedom Run kicked off at 9 a.m., with the first three runners returning to the finish line within 20 minutes.
County Commissioner Stephen R. Deutsch, who helped organize the event, said that the 5K run is projected to raise $2,000; the funds will primarily go toward the construction of a tower structure that will educate and commemorate the 1983 terrorist bombing of the barracks of the U.S. Marine Corps in Beirut.
The Memorial Park is named for William (Bill) R. Gaines Jr., a Charlotte High School graduate who joined the Marine Corps in 1981 when he was 18 years old. Gaines was one of the 241 Marines who died in the Beirut bombings. The tower memorial was suggested by Michael Gaines, William's brother.
The inaugural Freedom Run was held last year, with 100 people taking part. Deutsch estimated that between 25 to 40 people returned this year from the 2020 5K run.
Several runners in the 5K were affiliated with Paddle for Heroes, a local veterans' organization which is funding the installation of a handicapped-accessible kayak launch at the park.
The start and finish line for the race was placed a short distance away from the two memorial locations at the park's entrance: one for U.S. military veterans, the other for the county's first responders.
A ribbon-cutting ceremony to officially introduce the first responders memorial is currently scheduled for 2 p.m. on Wednesday, Jan. 12, at the park entrance at 20499 Edgewater Drive. Ceremonies for the veterans memorial will be a month later.