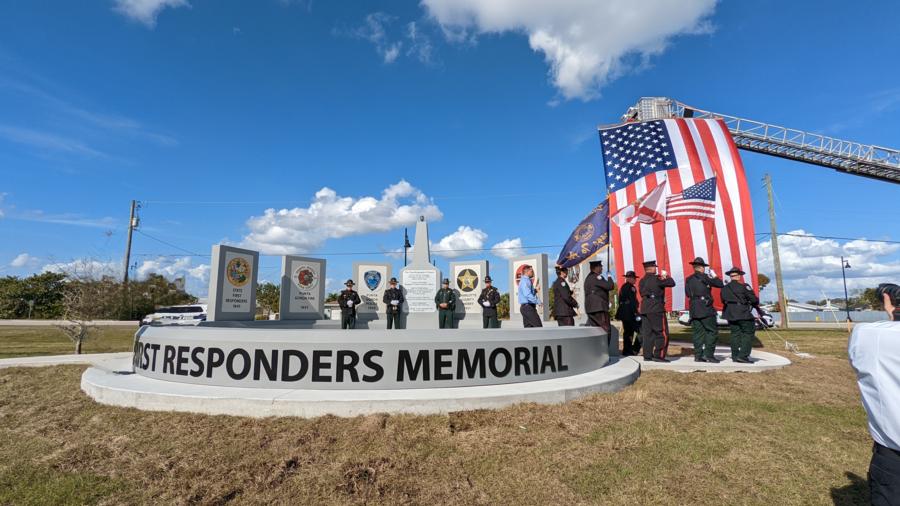 By FRANK DIFIORE Staff Writer
PORT CHARLOTTE — Local officials, community members and emergency personnel came together Wednesday afternoon to dedicate a new memorial to Charlotte County's first responders.
"It took an awful lot of people to get us to today," County Commissioner Stephen R. Deutsch said.
The First Responders' Memorial was placed near the entrance to William R. Gaines Jr. Memorial Park on Edgewater Drive, with memorial markers for several local first responder organizations and when they were founded.
After opening remarks, local officials cut the ribbon to officially open the memorial to the public.
Charlotte County Sheriff Bill Prummell called the new memorial "a place where law enforcement, firefighters and EMS will stand together as one."
"Don't focus on how they died; remember how they lived," Prummell said.
County Commissioner Bill Truex said in the welcoming remarks that the memorial would stand not only for first responders lost in the line of duty, but their families as well.
"For those who have sacrificed, and made the ultimate sacrifice, we thank you," Truex said.
Along with the various donors who contributed to the memorial's construction, Deutsch called attention to two particular community members who pushed for the construction: airport engineer James Hurston and Mike Gaines.
Gaines is the brother of William Gaines, the park's namesake; William was one of 241 U.S. Marines who were killed in the 1983 Beirut bombing.
Deutsch credited Hurston for donating his time to help prepare the construction, and thanked Gaines for organizing and starting the movement to build a memorial to the Beirut Marines.
The memorial stands on the opposite side of the entrance road from another memorial honoring each branch of the U.S. military.
Speaking briefly at Deutsch's request, Gaines said that it was "perfectly fitting" to honor first responders and veterans side-by-side.