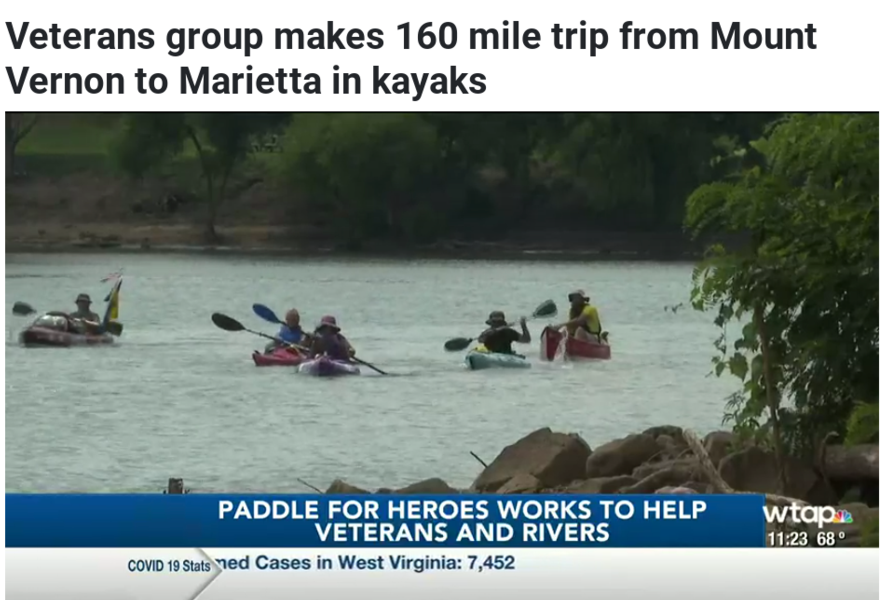 MARIETTA, Ohio (WTAP) - After six days and 160 miles, a group of kayakers with Paddle for Heroes arrived in Marietta on Friday. They came all the way from Mount Vernon, Ohio, camping along the way. To make sure the trip was a safe success, a small team of people followed by roadway.
Paddle for Heroes aims to help veterans, first responders and others get on the water through paddle sports.
Members say paddle sports like kayaking, paddle boarding and canoeing can be therapeutic for people suffering from post traumatic stress disorder (PTSD).
"There are studies out there that show being outside, being in a kayak is really good for PTSD and mental things of that sort. so it's really good for soldiers and first responders that have experienced trauma in that way," said Joey Butts, the community outreach officer with Paddle for Heroes.
Butts says The Fourth Annual 160 Mile Paddle from Mount Vernon to Marietta is dedicated to William Gaines Jr., a United States Marine who was killed in Beirut, Lebanon in 1983. He was just 21 years-old. According to a news release from Paddle for Heroes, the bomb that killed him was the largest non-nuclear bomb ever detonated. It killed 241 marines, soldiers and sailors and was the largest loss of life for the U.S. Marines since the Battle of Iwo Jima.
You can view the TV story at https://www.wtap.com/2020/08/08/veterans-group-makes-160-mile-trip-from-mount-vernon-to-marietta-in-kayaks/?fbclid=IwAR3Uv_ETmMuW735fmMfXVzBwOmFjZBrtr14oZAip7seL2eYpuj4DPetZrEY
Learn more about Paddle for Heroes @ https://www.paddleforheroesmidwest.org/