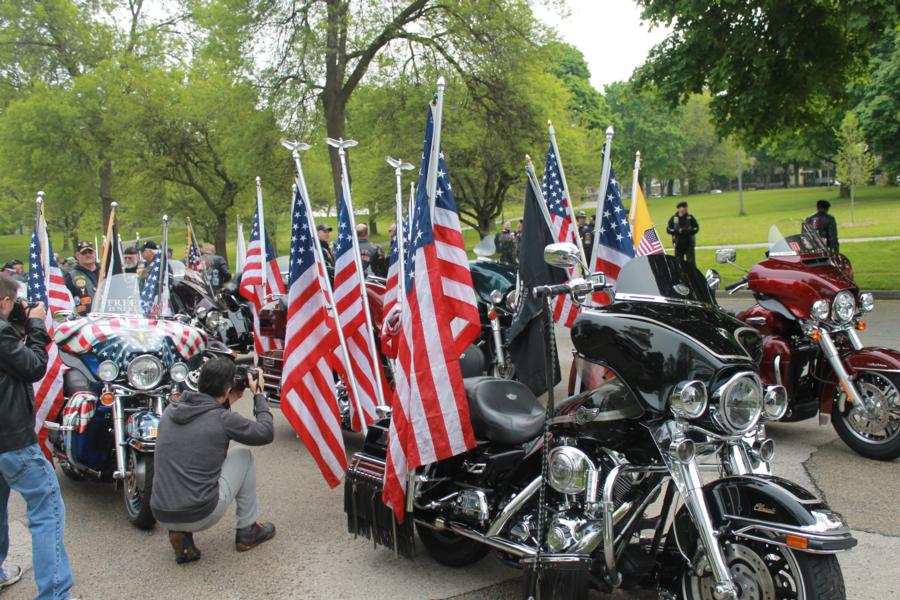 The American Legion in-state legacy motorcycle ride will be making a stop at the William R. Gaines Jr. Veterans Memorial Park on Edgewater Drive in Port Charlotte at 2:00 pm Wednesday, April
19.
According to Charlotte County Commissioner Stephen R. Deutsch the county veterans liaison, the group will be placing four memorial wreaths at the park. The wreaths will be placed at the Military Services and First Responders memorials; the Gold Star Families Memorial and the base of the planned Beirut Peacekeeper Tower. Honor guards will be present at the First Responders Memorial thanks to our local first responders. An Honor Guard will also be at the Military Services Memorial thanks to American Legion Posts 103 and 110.
Deutsch said the stop is part of the State American Legion Riders annual one week unity ride covering thousands of miles across Florida. The effort is designed to help increase awareness of veteran suicides.
A brief welcome program will be held about 2:15 p.m. that afternoon. The program will include a color guard presentation by the Marine corps League and the presentation of a citation by Commissioner Deutsch.
Local Legion Rider groups are also expected to participate in welcoming the Legion Riders on this leg of their journey. The public is welcome to attend.
The Cause
Riding to End Veteran Suicide We're addressing an important issue that affects Veterans and their families, suicide. Our mission for the In-State Unity Ride is to raise awareness and funds to end Veteran Suicide.
This campaign allows everyone to participate and make an impact: register to ride with us, create a page to raise money and earn COOL prizes, or make a donation.
Your involvement is critical to our success and saving the lives of our Veterans. Be sure to share this page with your family and friends so they can be a patt of this life-saving event, too!
Learn more and sign up for the ride at: https://www.floridalegion.org/programs-services/legion-riders/special-events/unity-ride/the-ride/