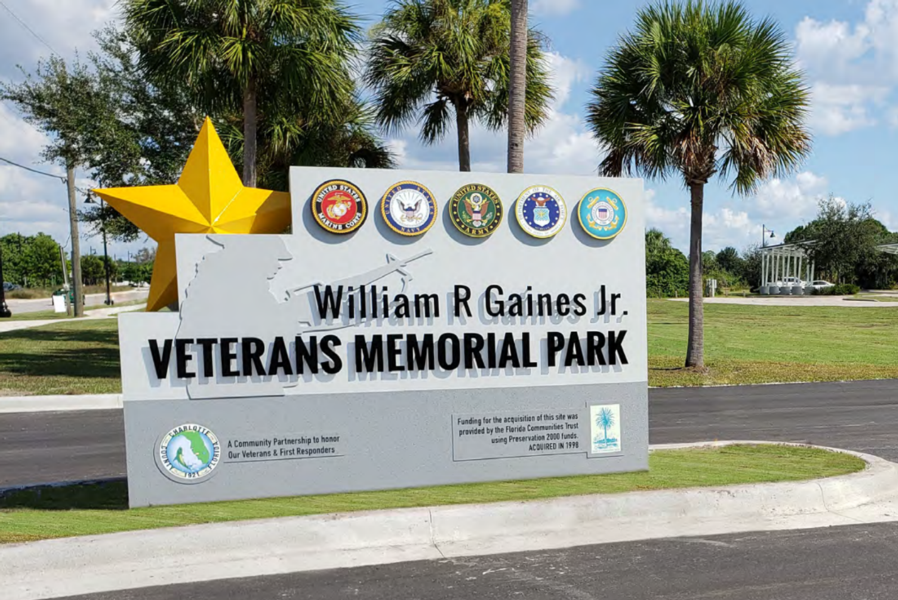 BETSY CALVERT
A road stub that currently goes nowhere will soon become the second entrance to the William R. Gaines Jr. Veterans Memorial Park off Edgewater Drive.
Contractors will mobilize soon to build a new road, a trail, more parking and a playground in the Charlotte County park, project manager Travis Perdue told the Sun.
Construction won't begin before February, however, Perdue said, because it will take weeks to stake out wetlands and relocate gopher tortoises currently living on the undeveloped land. The new road will run from the second entrance and stay close to Edgewater rather than dipping deep into the woods and wetlands. It will end near the main entrance into the park and at the parking lot with solar panels. About 1.5 acres of wetland will be removed, Purdue said, and the county will have to provide wetlands elsewhere as a mitigation. The road location was chosen to cause as little environmental disruption as possible, he said. This phase of park renovation is costing about $2 million in design, permitting and construction, Perdue said, with funds coming out of the county's capital improvement budget.
It's all been in the works for more than 10 years, Commissioner Stephen R. Deutsch told the Sun. The goal in adding the road is to improve safe access, Deutsch said, and access from the roundabout is safer for westbound traffic than at the main entrance. Everyone expects the park to get a lot more use with the renovations, he said, so there will be a need for more access.
"It makes sense," Deutsch said. "Five to 10 years down the road, it's going to be a busy place." Finally, the new road will improve emergency access, County Public Information Officer Brian Gleason said.
The Gaines Park was previously called Sunrise Park. The county bought it in 2000. It was renamed in 2017 after William R. Gaines Jr., a local man and one of many U.S. Marines who died in the 1983 attack on the embassy in Beirut.
Gaines' younger brother Michael is the force behind the park's dramatic new entrance signs as well as plans for an observation tower. The tower will tell the story of the Marines, of first responders and other American peacekeepers. Michael Gaines and others are raising funds through private contributions.
Work on the observation tower could begin in the spring, said Deutsch. Construction of the new road and playground should be complete by fall 2020, Perdue said.
Plans for phase 2 are even bigger, but not funded. If funded, phase 2 could include a splash pad, a large network of nature trails in the undeveloped areas, fitness equipment, more pavilions and restrooms, a bigger kayak launch, bocce courts and a community building.
Email: [email protected]