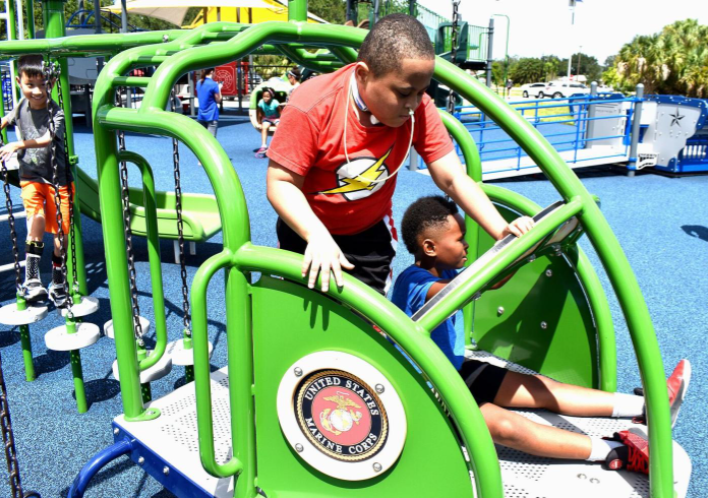 By DANIEL SUTPHIN Staff Writer Sep 22, 2020
Article Printed in the SUN PORT CHARLOTTE — A ribbon-cutting ceremony was held Tuesday to debut the latest changes at William R. Gaines Jr. Veterans Memorial Park in Port Charlotte, including a new military-themed playground.
The park was named for Charlotte High School graduate and U.S. Marine William R. Gaines, Jr., who was killed in the bombing of the Marine barracks in Beirut in 1983.
"This park, while named for Bill, honors all of our veterans — living and dead — and all of our first responders," said County Commissioner Stephen R. Deutsch. "This will be a park for everyone in our community to enjoy."
Construction started in November 2019 and finished last month, according to County Commissioner Bill Truex, who led the ceremony.
Park improvements also included a secondary access drive from Edgewater Drive, additional parking, a small pavilion, sidewalks and security lighting.
Michael Gaines, William's brother, worked with Deutsch and others over the years to rebuild and rebrand the park, formerly known as Sunrise Park.
"This is a dream come true and it's a bigger dream than either one us ever sort of imagined," Michael said. "What's exciting today is that the vision that you see of the park is a place that people can come and play. You can come and play pickleball or tennis. There is a kayak launch where people can go out (and now) kids can play on this playground."
Each playground structure represents a different branch of the U.S. Armed Forces — Army, Marine Corps, Navy, Air Force and Coast Guard.
Local mother of five, Jessie Bittner, lives around 20 minutes from the new playground but said it was worth the drive.
"I'm excited to have such an accessible playground at the park here," Bittner said. "I have five kids, three with disabilities, so it's nice for us to come here so they can interact with the other kids. The military theme is really unique and it honors the Veterans Park here so it makes sense (that would be the theme)."
The new playground is handicap accessible and is located at the park at 20499 Edgewater Drive in Port Charlotte.
Article Link: https://www.yoursun.com/charlotte/news/gaines-veterans-memorial-park-debuts-upgrades-military-themed-playground/article_149f0cea-fd0c-11ea-81b9-e3ef542955aa.html