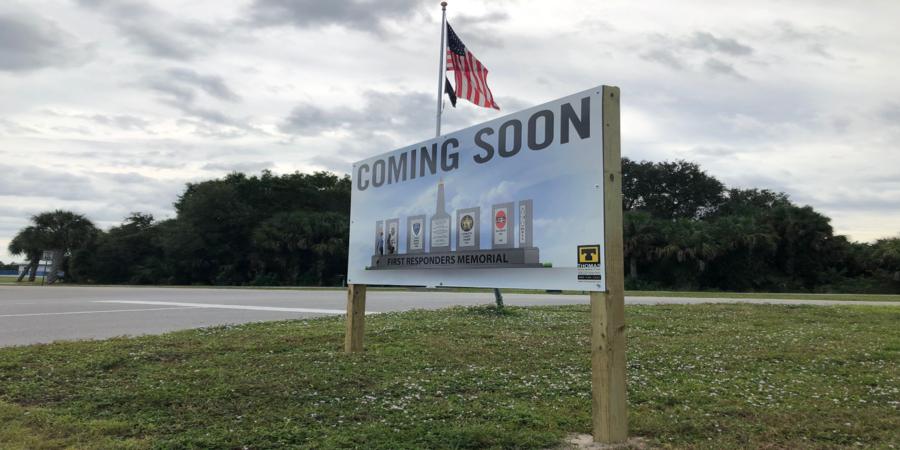 JOHN HACKWORTH, Commentary Editor
Veterans Day, this Thursday, will see a significant milestone in the development of the William R. Gaines Jr. Veterans Memorial Park.
It's an appropriate time to break ground on two memorials planned near the park entrance off Edgewater Drive. At 11 a.m. a ceremony will recognize veterans on this special day, and dirt will be turned for memorials honoring vets from the Army, Navy, Air Force, Marines, Coast Guard and Space Force and for the Punta Gorda police and fire departments, the Charlotte County Sheriff's Office, the Charlotte County and Englewood fire departments and the state's first responders.
The two memorials, each with their own eternal flame that will be visible from Edgewater, are a significant step in the development of the park, It's been more than five years ago that Charlotte County Commissioner Stephen R. Deutsch got a phone call from Michael Gaines. He asked: "Are you a commissioner? My brother lost his life in the service of his country and he grew up in Charlotte County. I want to do something in his memory."
Michael Gaines suggested a flag pole, a plaque or something similar that would recognize the sacrifice his brother made when he was among 241 Marines, soldiers and sailors killed in an Oct. 23, 1983 terrorist bombing in Beirut, Lebanon. William R. Gaines Jr. had just turned 21. The bomb was the largest non-nuclear bomb ever detonated and the explosion was devastating.
William attended Charlotte High School and joined the Marine Corps in the summer of 1981 at 18. He proposed to Carol Taylor, just after boot camp graduation. Their wedding on July 31, 1982, at the First Baptist Church of Port Charlotte, drew many any of their high school friends, a few fellow Marines, and family.
Deutsch was touched by the idea. But he said he wasn't quite sure how to help.
About that time he drove by what was then a small park off Edgewater Drive. That park stuck in his mind until a few days later Deutsch, a notorious light sleeper, woke in the middle of the night.
"A light bulb went off and I thought 'why not do something with that park," Deutsch said. "I called Michael back and said 'How about if we named a park after your brother and recognized all the veterans and first responders there?' He said OK."
It took about another year to get the County Commission on board and the park renamed. Now, more than five years later, there has been significant progress as the vision begins to materialize with a plan for a children's playground, kayak launch and a walking and jogging trail with exercise stations. The centerpiece of the park will be the Beirut Peacekeepers Tower people can climb that would be adorned with historic recollections and educational materials telling children, and others, of the events it memorializes.
Deutsch is proud of the fact more than $200,000 that has been donated for the completely accessible park has come from all local businesses and people.
"It's been a unique partnership between the William R. Gaines Foundation and Charlotte County to make this happen," Deutsch said.
If you've never been to the park, Thursday would be a great day to visit. Everyone should be proud of the tribute to our veterans — just another example of why Charlotte County is special to those who served our country, in war and in peace.