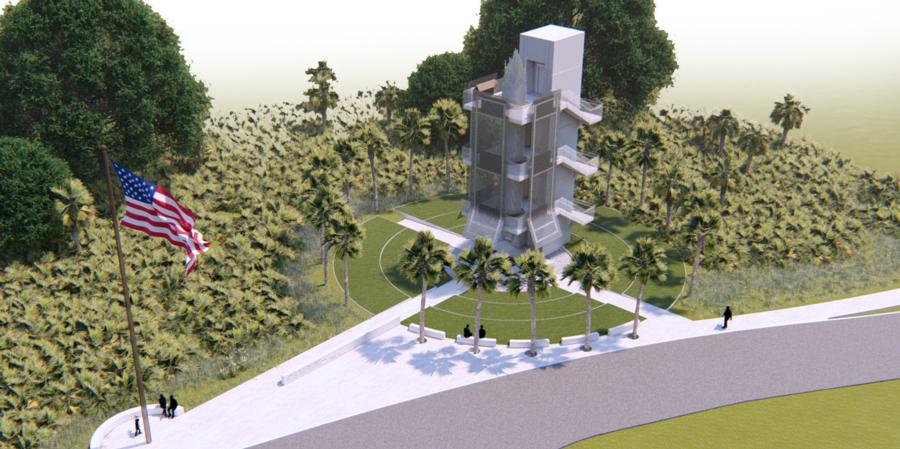 Charlotte Sun By NANCY J. SEMON
PORT CHARLOTTE — Charlotte County is moving forward to begin construction of a tower memorializing the lives lost in the 1983 Marine barracks bombing in Beirut.
Charlotte County commissioners on Nov. 22 unanimously approved a $2 million grant agreement with the Florida Department of Economic Opportunity to build a 45-foot, three-story tower at William R. Gaines Jr. Veterans Memorial Park.
The park is named after William R. Gaines Jr., a young Marine and Charlotte High School graduate who was among 241 killed in the Oct. 23, 1983 bombing.
His brother Michael started a foundation named after him, and money raised allowed the Gaines Veterans Foundation to pay for two cement entrance signs for the park, the flagpole, and the architectural design for the tower.
Several corporations have donated to the foundation, as well as members of the public.
Because of its height, visitors to the tower will have views of Charlotte Harbor and much of the area.
The grant for construction of the tower was approved by the Florida Legislature earlier this year.
The grant has a match requirement of $580,000 in cash or in-kind services, which will be donated from the William R. Gaines Jr. Veterans Memorial Park Foundation.
At a December 2020 meeting, Commissioner Chris Constance called the tower's design "very impressive."
In an earlier interview with The Daily Sun, Michael Gaines said the architect who designed the tower used elements of two buildings where the Marines lived and worked in Beirut.
At the Nov. 5 dedication of the Gold Star Families Memorial Marker at Gaines Park, Charlotte County commissioner, Stephen Deutsch announced the county will break ground for the memorial honoring those Americans killed in the Beirut bombing sometime in late winter or early spring.
"That was the beginning of the war on terror," he said at the November event.
Deutsch has been championing the tower from the beginning and was instrumental in having the county add the new design for the tower to its master plan for parks and recreation.
Printed in the Charlotte Sun: https://epaper.thedailysun.com?selDate=20221205&goTo=A01