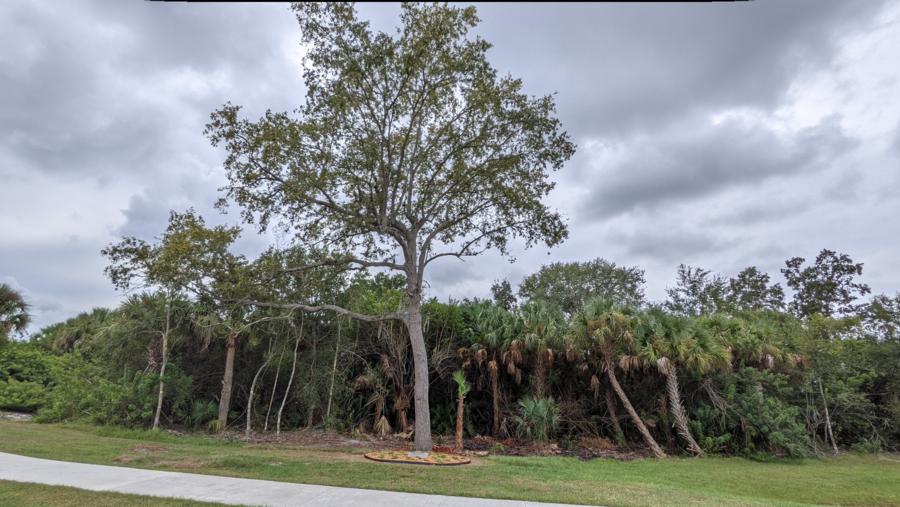 PROVIDED BY DAR HICKORY BLUFF CHAPTER
A live oak tree was dedicated as a Liberty Tree during a ceremony at William R. Gaines Jr. Veterans Memorial Park on Edgewater Drive in Port Charlotte.
The tradition of the Liberty Tree began in pre-Revolutionary War New England, where an elm tree in Boston served as a rallying point for defiant patriots and inspired Thomas Paine to write a poem about it. First appearing in the Philadelphia Gazette in 1775, the famous poem reads in part: "Unmindful of names or distinctions they came, "For freemen like brothers agree, "With one spirit endued, they one friendship pursued, "And their temple was the Liberty Tree…" The Liberty Tree's significance is revered today by many historical lineage societies.
The Oct. 9 event was organized by the Hickory Bluff Chapter of the Daughters of the American Revolution and the Charlotte Chapter of the Sons of the American Revolution, in cooperation with the Charlotte County Centennial organization, Roberson Funeral Home, and Charlotte State Bank & Trust.
Thirteen marchers from the Florida SAR Color Guard dressed in colonial attire carried flags or muskets and posted the colors. Members of Boy Scout Troop 351 of Punta Gorda (Deep Creek) led the Pledge of Allegiance and recited the Scout oath, while popular Punta Gorda vocalist Marcella Brown delivered a beautiful rendition of the national anthem.
The ceremony was punctuated with a proclamation from the Charlotte County Commission read by Commissioner Stephen R. Deutsch. Rev. Dwight Elam, the SAR chaplain general, was the keynote speaker who recounted the history of the original Liberty Tree.
Several dignitaries from DAR and SAR brought greetings from their respective societies, including 6-year-old Jordis Hart, president of the Brewster Baker Society Children of the American Revolution, and Honorary Regent Debi Allen representing the Hickory Bluff Chapter.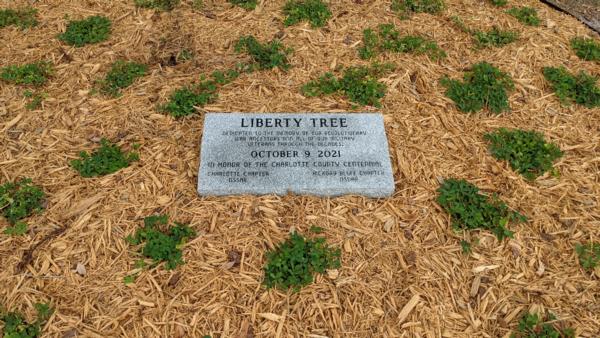 A stone marker was dedicated near the tree with the assistance of Troop 351. The plaque can be viewed along the main walking path in the park.
For more on the William R. Gaines Jr. Veterans Memorial Park, visit charlottecountyfl. gov. For more on the DAR Hickory Bluff Chapter, visit www.fssdar.com/HickoryBluff.