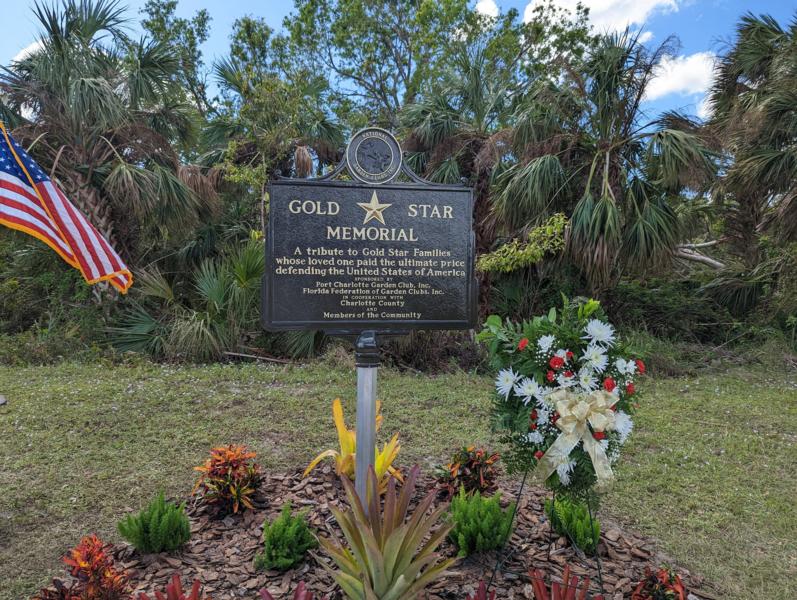 By NANCY J. SEMON
PORT CHARLOTTE — Dozens gathered at The William R. Gaines Jr. Veterans Memorial Park on Saturday for the unveiling of a Gold Star Families Memorial Marker honoring fallen troops.
Gold Star families are those whose family members died in the line of duty.
The commemoration was made possible by the national, state, and Charlotte County garden clubs, coordinated by the Port Charlotte Garden Club and its leaders and participants Connie Ferris, Lee Ann Ferriola and Sandi Witzke.
American Gold Mothers Peace River chapter President Shannon Mesenburg was the guest speaker.
Mesenburg, a South Gulf Cove resident, drew attention to the epidemic of suicide in the military.
Mesenburg spoke how she and her husband Mitch received the news in January 2019 "that our 25-year-old boy" had died of suicide.
Her son, Senior Airman XinHau Mesenburg, was one of tens of thousands of active duty personnel and veterans who have ended their own lives.
Mesenburg said a retired general relayed that suicide claims 22 veterans every day, 154 a week, and 660 in a month.
"That's over 7,700 each year by their own hands," she said.
That same general said that he lost 224 Marines over four years by suicide, and 40 who died in combat.
Mesenberg said after she was interviewed on television, a member of a Blue Star Mothers chapter was hosting a tea for Gold Star Mothers and invited her.
"I was trembling; my legs were weak."
She said she "nearly ran back to my car because of the way I lost my son."
Since then, Mesenburg was reassured by the Blue Star Mothers — who are mothers, grandmothers and other family members — that her son's sacrifice was nonetheless given for his country.
As president of the Peace River chapter, Mesenburg said their mission "is to help our homeless vets."
The event began with the Port Charlotte High School Band playing "America the Beautiful." Later, the band played "God Bless America."
Ferriola noted less than 40 band members present and they didn't have their uniforms and all of their instruments, that were lost to Hurricane Ian. She urged those gathered to drum up support to help the band.
Scouts BSA Troop and Pack 95 of Port Charlotte and Scout Troop 338 of Port Charlotte participated in the dedication.
Marjorie H. Hendon, president of the Florida Federation of Garden Clubs, traveled several hours from another part of the state to dedicate the marker.
Sometimes choking back tears, Hendon said that when "we go to bed at night," military personnel are "flying the skies, sailing the seas … we must never take this for granted and we must never forget them."
Referring to those gave the ultimate sacrifice, she called them loyal patriots who "in death gave their all for the land they love, these United States of America."
"Surviving Gold Star families live their daily lives of the heavy burden of the emotional pain. We hope to offer some measure of comfort," she said The day also included:
• The presentation of colors by Port Charlotte High School ROTC, American Legion Post 110 in Port Charlotte, and American Legion Post 103. The American Legion posts also conducted the presentation of arms.
• Charlotte County Sheriff's Office Deputy Bill Miller sang "The Star-Spangled Banner" after the Pledge of Allegiance led by Shawn Rourke.
• Commissioner Stephen Deutsch shared a memory. "As a 5-yearold in the Bronx," he said he saw "dozens and dozens these white flags with gold symbols." He said it was his "first impression of what we go through in a war." He announced that sometime in late winter or early spring, the county breaks ground for a memorial honoring the 241 Americans lost in Beirut. "That was the beginning on the war on terror."
• A traditional ceremony — The Tribute of Flowers, took place with floral designer Sue Fisher placing her arrangement on an easel in front of the Memorial Marker.
• Rosita Aristoff, Gold Star chairman of the Florida Federation of Garden Clubs, read a history of how the Gold Star Mothers began in 1928.
• Alex Christie of the Fellowship Church of Englewood gave the invocation.
• Ray Mallen played taps to end the ceremony.