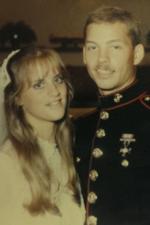 Bill attended Charlotte High School and joined the Marine Corps in the summer of 1981 at eighteen. He proposed to the love of his life, Carol Taylor, just after boot camp graduation at Parris Island, SC.
Their wedding was at the First Baptist Church of Port Charlotte. Bill wore his Dress Blues and Carol a long white lace wedding gown. Many of their high school friends, a few fellow Marines, and family attended the storybook wedding on July 31, 1982.
After spending the next 9 months in Jacksonville, NC together, Bill's battalion was deployed to Beirut, Lebanon in May of 1983. They were the U.S. component of the United Nations multinational peacekeeping force. During his deployment in Beirut the fighting escalated into direct attacks on the Marines stationed in and around the Beirut International Airport.
On October 23, 1983, just five days after turning 21, Bill was killed by the largest non-nuclear bomb ever detonated. The attack killed 241 Marines, sailors, and soldiers. It was the worst single loss of life for the Marines since Iwo Jima.
Two weeks later on November 5, 1983, Bill's family held his memorial service in the same church they celebrated his wedding. This short timeframe encapsulated the celebration of life and the sacrifice for others that provides the blanket of freedom we all cherish.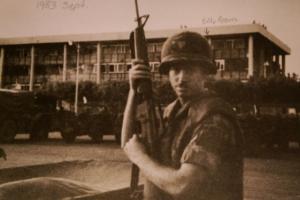 It was Bill himself who expressed this so eloquently on September 21, 1983. He wrote the following lines just as the USS New Jersey fired its sixteen inch guns over the Marines into the mountains of Beirut.
"I believe in our mission here, I believe we belong here; this is a matter of principle, not politics or money or even lives. It's the principle of freedom, of peace for the majority. If we stay and achieve the freedom and stability that can only be achieved thru force (the people here are different; they don't understand diplomacy, only force) and I die in the process, I feel that I would have died for a good reason. If America can gain the respect and trust of the World again... if they see that our word is honorable and we are willing to fight and die for the freedom of others... then and only then will we have died honorably and justifiably."
As a twenty-one year old who grew up in South Florida and was a product of the Charlotte County community, Bill understood that freedom requires sacrifice for others. The goal of the William R. Gaines Jr. Veteran Memorial Fund is to honor his deep commitment and willingness to die for a country he believed in.